I've been home from ARBA Convention for a few days now and am slowly getting back into the swing of things with balancing work and farm chores.
I gave my new pair of Creme D'Argents a few days to settle in before I took them out of their new digs to take photos of them. They initially were slow to eat pellets but were devouring hay, they haven't figured out my auto watering system but since its almost time to winterize and the auto watering system will be cut off in favor of water bottles and crocks its okay they haven't learned to use the valves, I'm providing them with crocks for now.
Both Cremes are big, docile, super soft bunnies, I just adore them!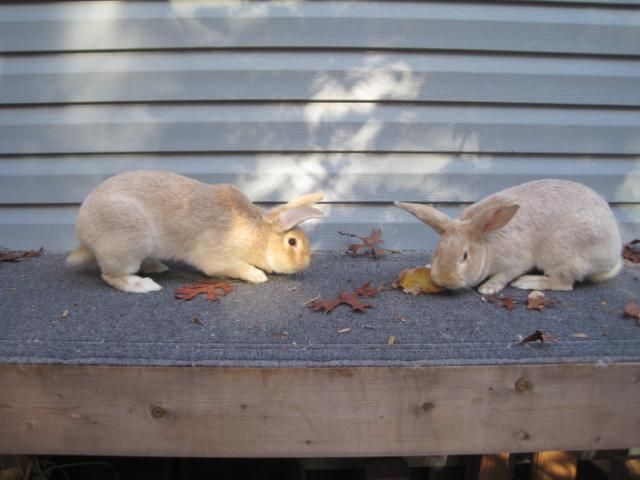 Here they are out on the Rhinelander's running board for the very first time.
I've never had a commercial breed before, the closest in body shape I've had before would be my English Angoras from several years ago which are compact in type. Its going to take some education to learn how to type/pose these cuties.
The doe is named Fog and she is on the left and the buck I named Quizno, he is on the right.
This is Timber Wind Acres Quizno, he was the 2nd place buck in his class and is a brother from a younger litter to the BOB ARBA Convention 2011 winning Creme. I can't thank Mark enough for this sweet, handsome buck! (Excuse his pose - I am still learning how its done!)
This pretty doe is MapleLeaf's Fig, she is so curious and playful, she likes to boing her slinky around in her cage. Thank you so much to the Bentons for this beautiful doe, we love her!
I thought it would be fun to take a photo of one of my Rhinelanders with my new Cremes to represent both breeds in the barn at the moment!
This was my top placing rabbit of the bunnies I entered at Convention this year. 11 week old Imagination's Derby took 8th place in a deep class of 32 junior bucks. I was so proud of him!
He is just a little baby with a soft little baby coat but I expect he will mature very nicely over the coming months. Even as such a young junior he really has excellent table presence and just loves to run.
The other farm critters seem very happy that their mother has returned to look after and play with them. I really missed all of the animals but the dogs and pigs were especially missed. Timon, my baby pot belly piglet has grown so much!
My goats even seemed excited that I had returned, they were right at the gates every time I walked by, "bahhhhing."
A few goats saying hello as I do farm chores.
With the goat bucks in rut its time for me to get the does bred for spring goat kids, I'm really excited for my first myotonic (fainting) kids from Ribbon and Dandy. Even though the dead of winter is rapidly approaching, the thought of cute baby goat kids in the spring will absolutely keep me warm at heart as the weather gets colder!