The weather on the farm at the moment doesn't quite want to make up its mind as to if its winter or late fall, we had two nights of a good freeze and then today it nearly hit 70!
I disconnected the autowatering system for the rabbits temporarily on the frozen nights and then reconnected it, hopefully to get one more solid week of its use before it is permanently disconnected for the season. (I'm hoping it can be reconnected by the end of March/early April... so I only have about 3 solid months of hand watering a year)
I've cut my rabbit numbers way back for the winter to make my life easier and will try to breed in later winter with one litter exception thats due in early December so the babies are weaned closer to when the autowatering system is reconnected. Of my 32 holes only 24 holes are occupied at the moment - this number will be decreased to 16 by the end of the next two weeks, I haven't had that few production rabbits in a very long time!
I am keeping a small number of Rhinelanders - originally I planned to get out of them entirely at ARBA Convention but have decided to hang onto a few, I have a few blue variety carriers and would like to work on developing the blues a bit more now that they are recognized and I will keep breeding some pure blacks too. After thinking hard about it there just aren't enough Rhinelander breeders in this part of the southeast and I want to do my best to keep bloodlines open and hopefully help the breed thrive/grow. While my focus has shifted to meat production rabbits I'll keep a handful of Rhinelanders in the barn for now too.

I'm currently expirementing with learning how to tan/preserve rabbit hides in an effort to utilize as much of the animal as possible when I process rabbits for meat. Not too long ago when I had more free time I was very into sewing, knitting, etc. One of the hobbies I enjoyed most was teddy bear/stuffed animal making. Rabbit hides make excellent stuffed animal furs and I'm really excited to get out some of my old patterns and give it a whirl with my finished skins, I got inspired at ARBA Convention by the beautiful products crafters had made with rabbit furs.
In other winter farm news heated buckets have been pulled out of storage for the goats and pigs, I'm going to be purchasing two more heated buckets since my goat numbers are much higher than they were last winter to ensure there will be plenty of unfrozen water for every animal.
While I'm not looking forward to the colder months ahead I feel pretty prepared for whatever winter may bring this year.
I don't have a bunch of new photos to share at the moment, my work schedule as always is pretty hectic but if I'm lucky I'll do my best to get some more new photos posted here soon.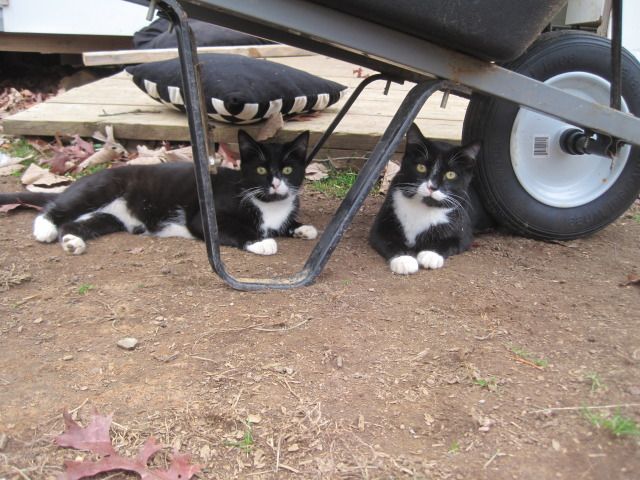 Here's Goblin on the left and Ghost on the right the two kittens I kept from my spring batch of bottle babies. These two cats are some of the most bonded siblings I have ever seen, they do everything together. They are both excellent mousers and Goblin particularly has brought me some enormous critters including a HUGE field rat! They're about 7-8 months old now and sweet as can be, they purr all the time and love to hop into laps for a cuddle session.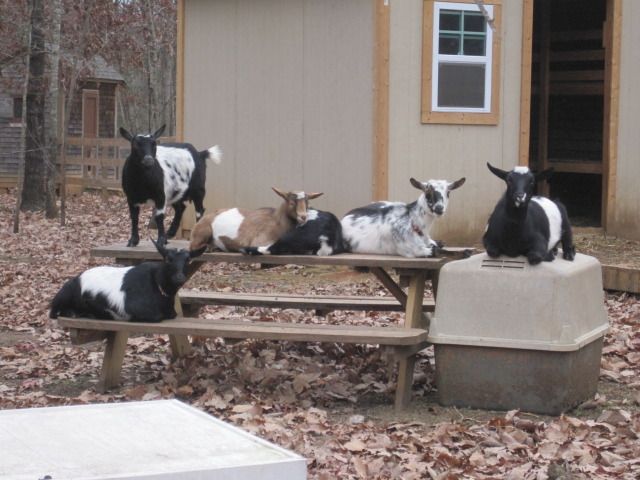 And here's a bunch of my goats lounging around. A real family affair, Dixie on the left standing with her two daughers Chime and Dudette, then Caddy on the right with her daugher Mascara and son Oreo.