If you've never attended an ARBA Convention before it can be difficult to understand the concept of over 22,000 rabbits being kept in one place for a week and the unbelievable amount of work that goes into the show from the club hosting and from the attendees.
This year I drove to Convention with a fellow bunny breeder. Since I entered 20 rabbits it made the most sense to bring along a trailer to haul the bunnies so the car could be filled with human necesseties and that way on such a long trip (about 13 hours one way) the car doesn't get filled with the noxious ammonia fumes of multiple bunnies in a small enclosed space.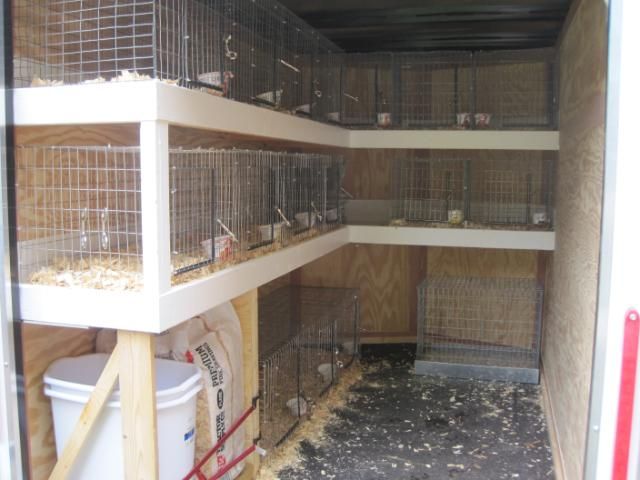 I had my trailer custom designed to accomodate my bunnies, 16 holes we mounted on the inside of a vented enclosed trailer with carrier space on the floor for additional bunnies. There was plenty of space for extra supplies such as hay, feed, water, and so forth eliminating the need to buy anything extra at the show.
Traveling with bunnies on such a long trip is taxing on both the bunnies and the humans doing the driving. Rabbits do tend to stress while in motion on the road and generally will not eat or drink. Thankfully bunnies tend to recover quickly from travel and will eat/drink once the motion has stopped.
All of my bunnies along with my travel buddy's bunnies took the trip up and back pretty well considering the long hours they were in carriers/travel coops.
Once you get to the showroom the madness of unloading begins. In our case we were lucky to arrive on Friday morning when the showroom was fairly empty and close parking spaces could be found. The first stop is the information table/check in area where entry packets are picked up and any last minute ear number substitions can be made. After that all the bunnies are taken via carrier to their assigned coop in their breed aisle. The showroom does provide food and water cups although many breeders elect to use their own from home. I brought along alot of hay to help keep the bunnies' GI systems in good shape and stuffed each of my rabbits coops with lots of hay along with filling up their food and water cups. After every bunny had been unloaded the cage doors are zip tied close to help prevent the rabbit from being harassed too much by strangers and deter theft. Each day the zip tie is clipped and replaced during feeding/watering.
Here I am in the Rhinelander aisle with a few of my bunnies behind me. You can see the soup cans used for feed/water and the hay in their pens.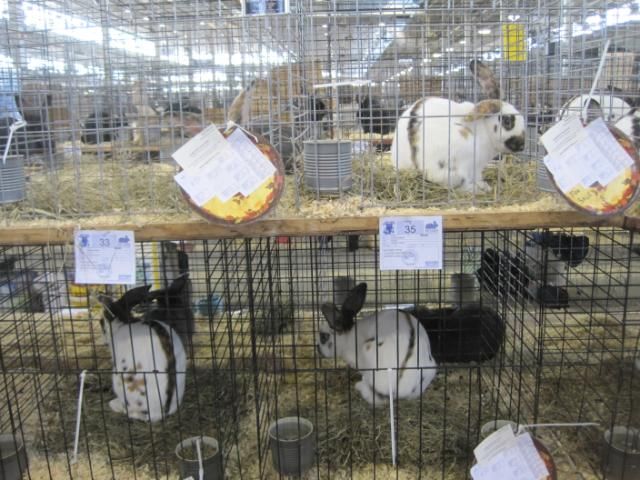 In this photo of a few of my junior bucks you can see I also use paper plates with mini peds/info on them to help advertise them and identify them from the whole row of Rhinelanders to make finding your bunny in the sea of bunnies easier when it comes time to feed and water.
Here's an up close of Sage one of my Rhinelanders in her coop, the coops are much smaller then normal sized cages - my Rhinelanders all live in 36x30 or 48x30 holes at home so my bunnies tend to get annoyed at the lack of space, luckily they're only cooped for a week.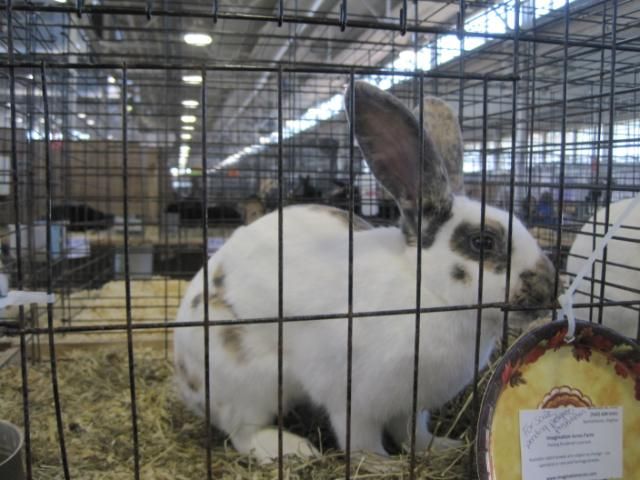 This is Glory my blue Rhinelander doe in her coop.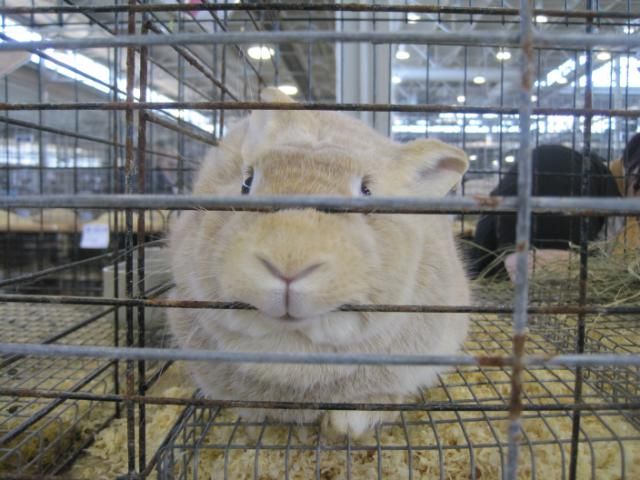 Rhinelanders were cooped next to Americans and Creme D'Argents. I just adore Cremes and ended up bringing a lovely breeding pair home to hopefully expand my meat rabbit project I'm venturing into. Cremes are such docile and lovely bunnies, I'm really looking forward to having them here on the farm.
Harlequins were also close by the Rhinelander aisle. I was really impressed with the Harlequins I saw at Convention, alot of them were really nicely marked which is something I can sincerely appreciate as a fellow marked rabbit breeder.
Here's another pretty Creme doe stretched out in her cage. Alot of breeders brought along wire risers to raise their bunnies above their waste inside their coops. I didn't bother with my Rhinelanders but for breeds unused to solid floors, wooled breeds or those that make large messes the wire floor risers can be a lifesaver.
This pretty bunny is a blue eyed white Beveren. Beverns are another large meat breed I enjoy seeing at shows. Maybe one day these guys will join the farm too!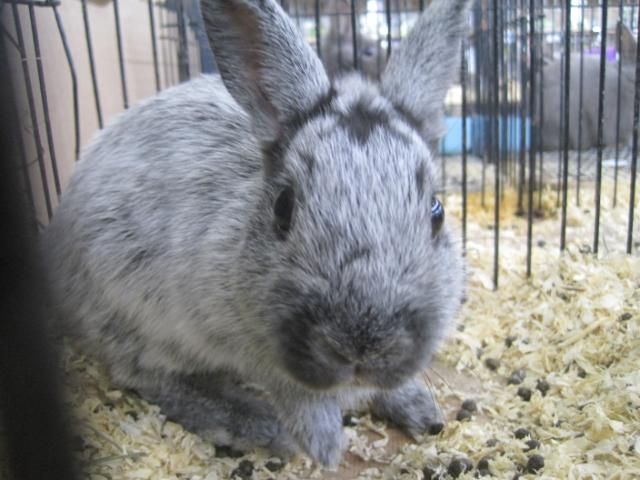 Presentation rabbits are those breeds/varieties that are seeking acceptance into the standard of perfection. The presenters who work on these breeds have to go through an involved process in order to get their animals accepted. All of the presentation animals are cooped together at Convention and its always fun to see what folks are working on. This cute bunny is a Champage Netherland Dwarf.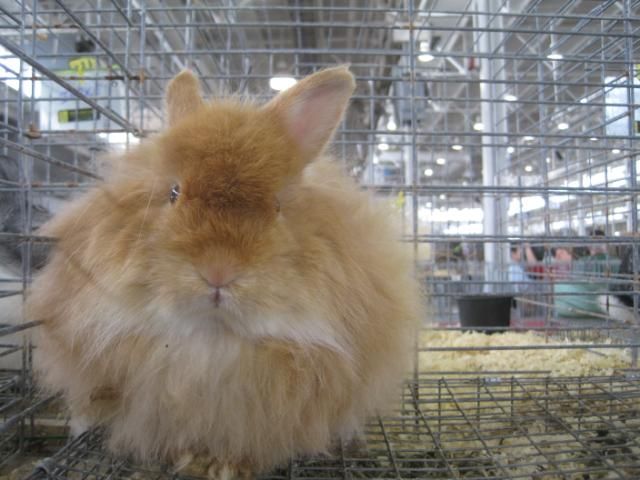 This is another presentation rabbit an orange Jersey Wooly, unfortunately this variety failed on their presentation this year.
This alert bunny is a blue Rhinelander presented by Lorena Ferchaud in California. This variety was accepted by the standards comittee and since it was their final presentation they are an official variety by the publication of the next DR!
An adorable Chinchilla Dutch, another presentation rabbit was hard at work chewing on its feed coop. Silly bunny!
And this is a cute broken otter I believe American Fuzzy Lop!
My next post will talk about judging at ARBA Convention!