Its cold again on the farm, every morning the ground is frozen and the animals all have thick winter coats of fur puffed up to keep them warm.
I still haven't gotten around to breeding the goats... This will be remedied this week as I try to set up a breeding pen at the very least for the Fainting goats, I may wait til closer to January to breed the Nigerians as I liked having summer kids last year.
Speaking of the goats, the buck pen which was where Banjo had been living seems to have recovered from the loss of our little fellow. Fiddle is spending more time with his half brother Tambourine who seems to be keeping him in good spirits which is a relief.
In rabbit news the winterized bunny barn is almost complete, the last 16 cages are getting pressure washed and rehung this week. The cages are now hung higher and no longer have any wood beneath to trap waste, the new setup is awesome, I'll post a video once its completely done. The wind blocking panels and doors will be going up on the rabbit barn too and then the rabbits will be all set up for winter!
I have a small litter of 3 Rhinelanders at the moment, 2 sports and 1 really nicely marked bunny which I'm excited about. The Cremes and a few of the Rhines will be bred in the next few days for January baby bunnies. These litters of Rhinelanders will probably be my last for a while as I plan to switch over entirely to my commercial project by the end of 2012. I do not plan to attend any rabbit shows in 2012 unless I need to go to one to pick up new stock for my Creme project. I'm hoping that with the last of my Rhinelanders I can produce a few more nice showable marked animals that can go onto new herds/exhibitors to make a positive impact on the breed.
In general farm news alot will be happening in early 2012, a large portion of my wooded land will be cleared for pasture, garden, livestock and dog use. I am planning on putting aside at least 1 full acre of the cleared land for a hayfield so I can grow my own mix of hays for my livestock. The dogs are getting the best deal as they will have a hugely expanded yard/yards to play in, including an agility field. The goat bucks will be moved to a new area farther away from the does where they will no longer share a fence line and finally the pot belly pigs yard will also be expanded.
Its going to be an ambitious new year on the farm, the begining of which will be very hectic with all the clearing but I'm looking forward to continuing to shape the farm into what I always dreamed it could be!
Here's a few photos of the baby Rhines, just under a week old now:
All 3 kits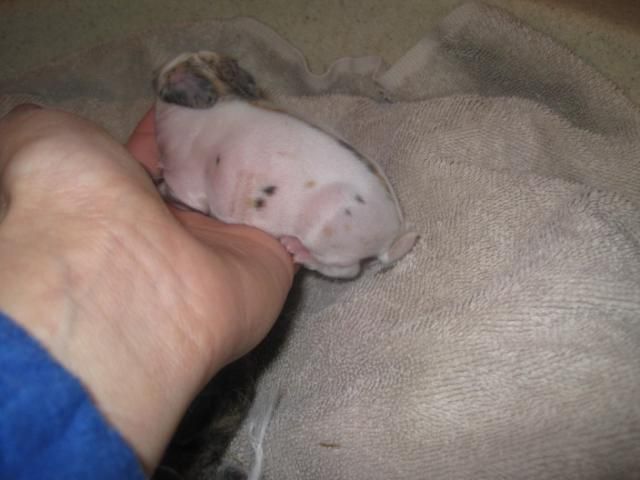 Really nice left side

Right side looks good too!